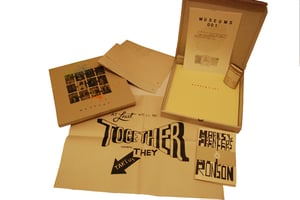 £

19.00
1 x MUSEUMS 001: 50 page, full colour, 11.75" square, soft-cover book, including national-geographic-vibe-fold-out-centre spread. Work from Ken Cole, Erin Gilkes, Jess Higgins, Lucy Jones, Sonja Leuschen, Alex Pierce, Mr. Red, Jack Teagle and Chelsea Wong.
1 x MARKS AND SPENCERS SPONSORS MARK RONSON: 32 page, A5, black&white comic by David Bailey
3x MANTRAS: Screenprinted A2 posters of work by Tim Lahan
1x COMFORTABLE ON A TIGHTROPE COMPILATION TAPE: 22 exclusive songs from Assassins 88, Beachniks, Dunes, Former Bullies, Girls Names, Golden Grrls, Irma Vep, La La Vasquez, Mazes, Nisennenmondai, Picastro, Piece War, Reading Rainbow, Rollin Hunt, Sad Horse, Sic Alps, Silk Flowers, Thee Oh Sees, Ty Segall, Veronica Falls, Waiters and Yellow Fever.
Curated by RLPerry & Laetitia Glenton, housed in toilet roll tubes.
+ 6 sides of ephemera (notes, content, etc.)
Housed in 12x12" hand stamped pizza box,
& Wrapped in one long strip of seven-layer screen-printing, images by Sonja Leuschen, Lucy Jones & Jess Higgins
All trimming, folding, printing, stitching, stamping, sticking, typing, scanning, editing, stapling and toilet rolling was done at home and by hand, between the months of October 2009 - March 2010.
EDITION OF 40.
(p&p included in price)