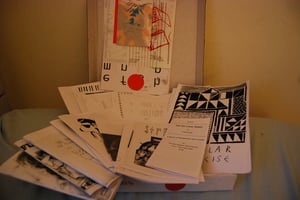 £

12.00 - On Sale
MUSEUMS TWO: BIGGEST FAN
25 individual fanzines from LAURA SKILBECK, AMY HANCOCK MARTIN, CRAIG BARR, MATHEW WALKERDINE, RLPERRY, MATTHIAS CONNOR, LIBERTY DENT, ANDREW BESWICK, NO WOMB, KATY FLYNN, LAETITIA GLENTON, LUCY JONES, DAVID BAILEY, ALEX HUMPHREYS/JOHN BUTCHER, JESS HIGGINS, MIRIAM AVERY, EDWIN STEVENS, JAMES WALKERDINE, LOWRI EVANS, JULIA SCOTT, JOE LOGAN, SOPHIE LEA PERRY, KATE ARMITAGE, BETHANY HERMITT & KEVIN DOYLE.
There are four one-sheets, one concertina style fold out, nine A5 booklets of varying lengths and eleven A4 staple bound documents. Each of the contributions were photocopied 50 times, with the exception of LUCY JONES' contribution, which was a stitched booklet of screen prints using images from the MUSEUMS ONE release, on leftover paper from other past projects, it truly is a beautiful addition amongst the black & white, 40 copies of this zine were screenprinted, ten of the boxes include photocopied versions of "1/40". Also in the box you'll find a copy of the now out of print FLESH WORLD a Twin Peaks fanzine; KNICK KNACK Andrew Beswick's new group poetry zine, currently available from Good Grief, with colour covers!; Matthias Connor's new story I USED TO DO DRUGS, I STILL DO; a G-mail chat between RL PERRY & D BAILEY; a documentation of LOWRI EVANS' recent perfomances based at Salford Central Station: THE SO LONG SERIES and way way more!
EDITION OF 50 / MAY 2010
Price includes P&P