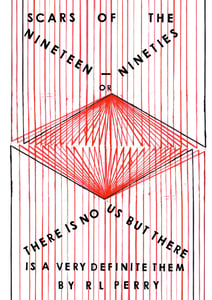 £

5.50 - On Sale
"SCARS OF THE NINETEEN NINETIES OR THERE IS NO US BUT THERE IS A VERY DEFINITE THEM" by R.L PERRY
First released back in March '09 as a supplement to the pre-historic/pre-MUSEUMS release 'W.A.Y.A.W.A.T', R.L.Perry's seminal short story; "SCARS OF THE NINETEEN NINETIES OR THERE IS NO US BUT THERE IS THERE IS NO US BUT THERE IS A VERY DEFINITE THEM" is now available to you as it's own, heavy* in the hands, easy on the eye, enriching to the mind BOOK. The efforts of LAETITIA GLENTON, LUCY JONES, JESS HIGGINS, R.L.PERRY & DAVID BAILEY were all part of making it whole & proper. It is also the first release that can be easily carried around (and should be at all times), fits nicely on most domestic shelving units AND comes in it's own, protective plastic wrapping. It starts like this...
"His scar was approximately one and a half inches in each direction. Roughly round. The lifeless white all history is awash with. Depending on one's theory of scar dating - from cut (or conception) or from when the sticky scab dries and dies and reveals what remains (birth, you might say)- the scar was either twelve years old (to the day), or else two weeks shy of it's silk anniversary."
*it is not really that heavy, but due to high quality paper stock if feels good & substantial to hold, open, leaf through, look at, be around and read.
MZ-003
JUNE 2010
EDITION OF 100
Price includes P+P